A Clear Path to Success: Balise Mentors High-School Students with Real Work Experience
When we say that the Balise team is a family, we're not just using a popular expression. We truly mean it, and we'd like to share a story that illustrates this. Stephanie Cannon has been an important part of the Balise service team since 2012, and she became the service manager at Balise Hyundai of Cape Cod in 2018. Her path to Balise included years in the automotive service field, where she wore every hat from receptionist to salesperson to service advisor. Stephanie's outstanding customer-service skills have carried her through her career and have clearly made a difference to our clients. Plus, she's a true Cape Codder, having started in the automotive service field while she was a student at Cape Cod Community College. Says Stephanie, "The Cape is definitely a different community and I feel so blessed to be a part of it." The combination of Stephanie's Cape Cod roots and her attentive and caring nature make her not just the ideal service manager, but the perfect person to help lead our new mentoring program for high-school students.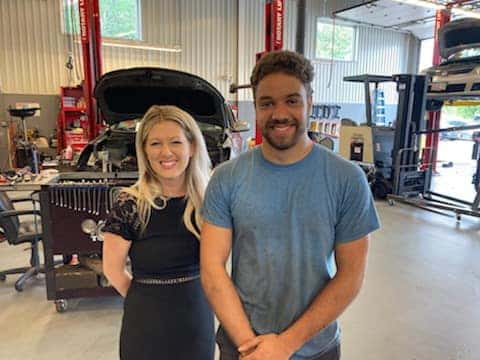 Stephanie recalls what set Balise apart from other places she'd worked, and what made it the right place for her to build her career. "When Balise offered me a position, I had a 6-month-old baby," she says. "And I could tell what an excellent company it was. Balise offered me a great work/life balance that was the best possible fit, and I still have that today." The way her career progressed over time and varied experience in automotive service seemed like the right way to do it – a promising track for any newcomer to the employment world. Stephanie worked with Balise Hyundai of Cape Cod service foreman Phil Clement in recruiting promising students from Upper Cape Technical School to a similar path.
Stephanie and Phil attended school advisory board meetings and developed a plan for selecting and working with co-op students interested in the automotive service field. One student named Shawn worked through his junior year and plans to continue his work-study position at Balise this fall. The other student in the program, Tyler, was a graduating senior. On the day he turned 18, he was hired as an official Balise team member. Says Stephanie, "This is just the beginning for Tyler with the Balise organization! I am so thankful to be able to start someone so young with the same opportunity I had been blessed with. I cannot wait to see how far he grows with our company."